Our Practice Management System is designed to keep you productive by allowing you to work on the things that matter most. From our intelligent data-entry methods to our streamlined end-of-day procedures, Mountainside keeps you focused on patient care.
The Patient Information Window
At the heart of Practice Management is the Patient Information Window that gives you complete access to a patient's Demographics and Insurance details along with all aspects of their Accounts Receivable and other history.
This same form is shared by all of our applications with appropriate security.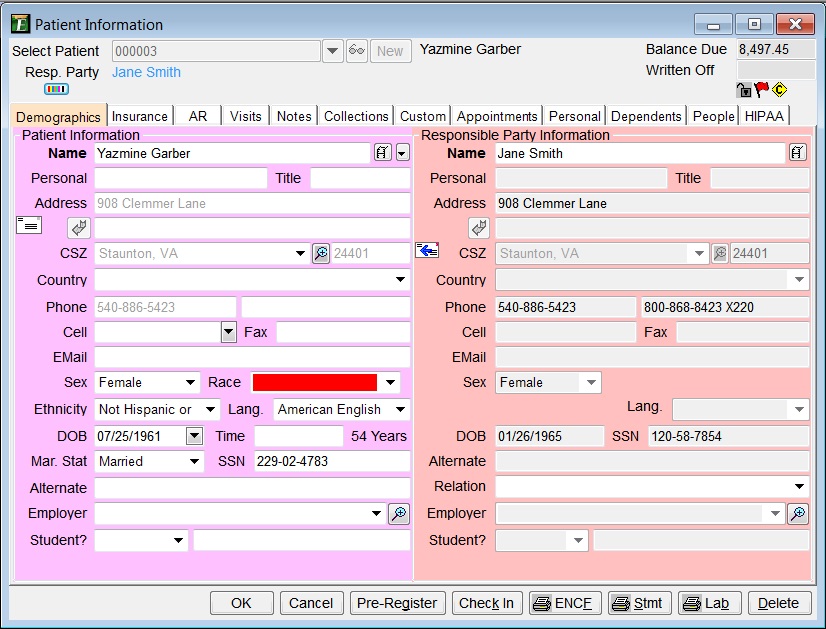 Simple, intuitive, data entry.

Record demographic, insurance and other related information for and about the patient.

Responsible party (guarantor) and insurance subscribers may be linked to other patients.

Linked patients (responsible parties and subscribers) may be opened directly from this form.

Accessible from several points within the application, such as Charge Entry.

Minimizes data entry by:

Eliminating the need to enter a patient's information twice when they are their own responsible party.

Allowing postal address inheritance. A responsible party may "inherit" the patient's address, or vice versa as seen above. When an address changes, all of the links inherit the change.

A patient may inherit a responsible party's insurance, or the insurance of another patient. When that insurance changes, the patient remains linked and automatically inherits the change.

The System "learns" zip codes as they are entered. Thus staff does not have to enter a city and state for every address added to the system. This feature applies to patients, insurance companies, referring doctors and all other addresses.

Print labels and various forms directly from the patient maintenance window.

Invite patients to the portal and update their portal status.

Set patient's preferred contact method and appointment reminder method(s).

Setup payment plans and view payment history.

View past and future appointments.

Maintain a list of family members and physicians involved in the patient's medical care.
Encounter-Based billing
An encounter identifies the office, insurance, responsible party (guarantor) and transactions for a single patient visit. This allows each encounter to be billed appropriately, even when insurance or guarantors change. When a minor reaches the age of being responsible for their own bills, future visits are billed to them, while former visits remain the responsibility of their original guarantor.
Insurance is inherited from the patient's active insurance but may be changed as needed for workers compensation, accidents or other reasons.

Encounters are typically billed to the patient or the patient's responsible party, but may be re-directed to a third party when, for example, you wish to bill a patient's insurance carrier for the production of a set of medical records, or an employer for a workers compensation visit.

There is never a need to have a patient on the system more than once to accommodate multiple responsible parties or different simultaneous insurance coverages

.
Charge and Payment entry, Refunds
Record patient charges, co-pays and other payments

When combined with our Allergy Lab System, the charges for Allergy Vials and Injections may be automatically posted.

Charges recorded in EMR flow into the patient checkout process.

Print patient receipts and/or statements as each patient checks out.

Process patient and insurance payments.

Insurance EOBs may be imported directly into payment processing.

Refund reports and processing.
Insurance submissions and follow-up
Submit charges (claims) to insurance clearing houses or companies

Accept and process insurance payments

Follow-up on un-processed claims
Automated Insurance Processing
Mountainside automatically prepares claims for submission, either as new charges are posted, or after payments are received from a preceding carrier. Claims are submitted either via paper or electronically.

Manual control of reprinting / re-submission of claims.

ANSI electronic claims along with HCFA 1500 and other paper formats.

Review claims and correct errors interactively before claims are submitted.

Your choice of clearing house.

Daily and/or periodic reports of past-due claims.
Automated Patient Statement Processing
Automatically prepares patient statements, either as a result of a "final" insurance payment, or based on the patient's statement cycle.

Statements may be printed and mailed, sent electronically, or both.

Standard and customized statement formats available.

Statements may be produced individually, or as a batch. Both methods provide the ability to preview, skip and/or postpone based on an individual patient's situation. For example, if during the review you see that an insurance payment has been received but not posted, the statement may be postponed one day to allow it to be generated after the pending payment is posted.
Integrated Collections Processing
Practice-defined collection rules.

Payment Schedules.

Assess interest on overdue balances.

Add charges to any account when turned over to a collection agency.
Daily, Monthly and Periodic reports plus report generator for practice-specific needs
For more information, or to request a free demonstration, contact us.