Mountainside provides a complete set of products for the medical office, available individually, or in any combination. When purchased together, the applications are totally integrated to form a complete medical office suite. This facilitates the capturing of charges ensuring no lost revenue and no data reentry. When purchased individually, they may be linked with third-party applications using an available HL7 interface. Whether you are a small office in a single building, or a larger organization with multiple offices, information is readily available from any workstation in any office.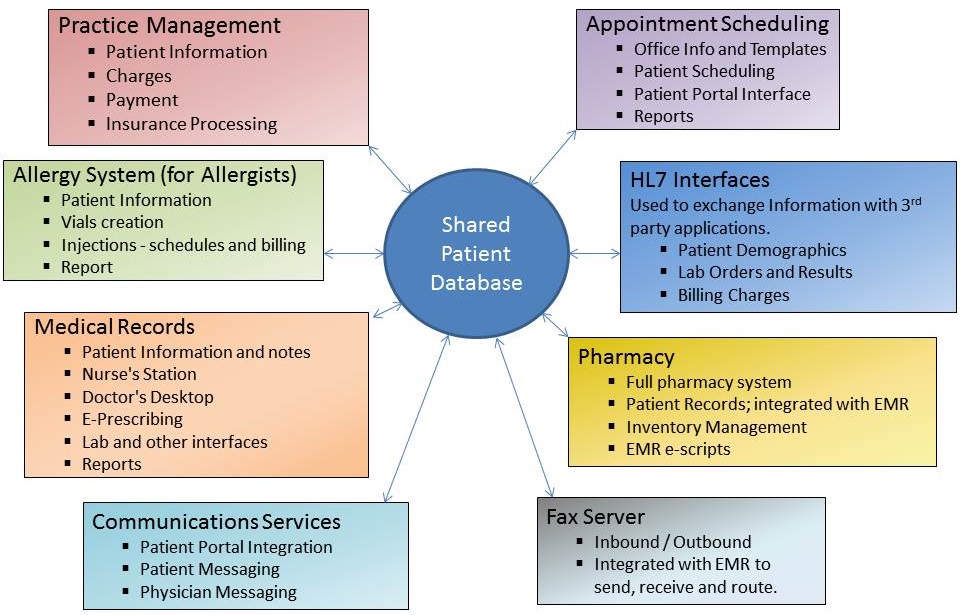 Practice Management is an automated system that, based on parameters set for each site, automatically manages many of the tedious aspects of the billing cycle. From intelligent features that minimize repetitive data-entry, to encounter-based billing that keeps all of the transactions for an encounter in one place, the system will quickly pay for itself through streamlined processing and improvements to your bottom line.
The ALS is designed to handle the needs of the busy allergy office. By efficiently documenting a patient's injection formulas, the system greatly increases the efficiency in both the mixing and injection labs. By automatically billing for both vials and injections, the system ensures that no charges are lost.
ALS offers complete electronic documentation for all skin-test results, vial formulations, vial orders, inventory and injections, along with office automation features such as the printing of vial labels and patient instructions sheets customized for your office.
Mountainside's EMR allows both new and seasoned staff members to intuitively manage their daily work-flow using the Mountainside Doctor's Desktop or Nurse Station. This allows staff to keep track of patients in the office while simultaneously managing the stream of requests and active documents moving across their workspace. Patient documentation is tailored to each office and provider using a set of customizable templates and macros, allowing fast and intuitive charting of each encounter.

The Mountainside Appointment Scheduler is a full-featured product for scheduling and managing patient appointments. With advanced features such as waiting lists, group scheduling and repeating appointments, the scheduler easily manages both simple and complex scheduling requirements.
Some of the Specialties We Serve
Family Medicine

Allergy

Psych

Surgery

Podiatry

Physical Therapy Billing

Pain Management