Mountainside's EMR uses an innovative approach in helping medical offices create and manage a true paperless medical record. It is a full-featured system that documents all aspects of a patient's medical care.
Patient Charts
Each patient's "chart" provides pertinent current information, along with complete access to all of their documentation including:
Patient notes.

Diagnostic tests and procedures.

Active Prescriptions and Medication History.

Problems

Immunization and other preventive care procedures.

Flow Sheets.

Allergies and other Alerts.

Pending to-do-list entries with history.

Images and much more, all easily customized to the needs of each office.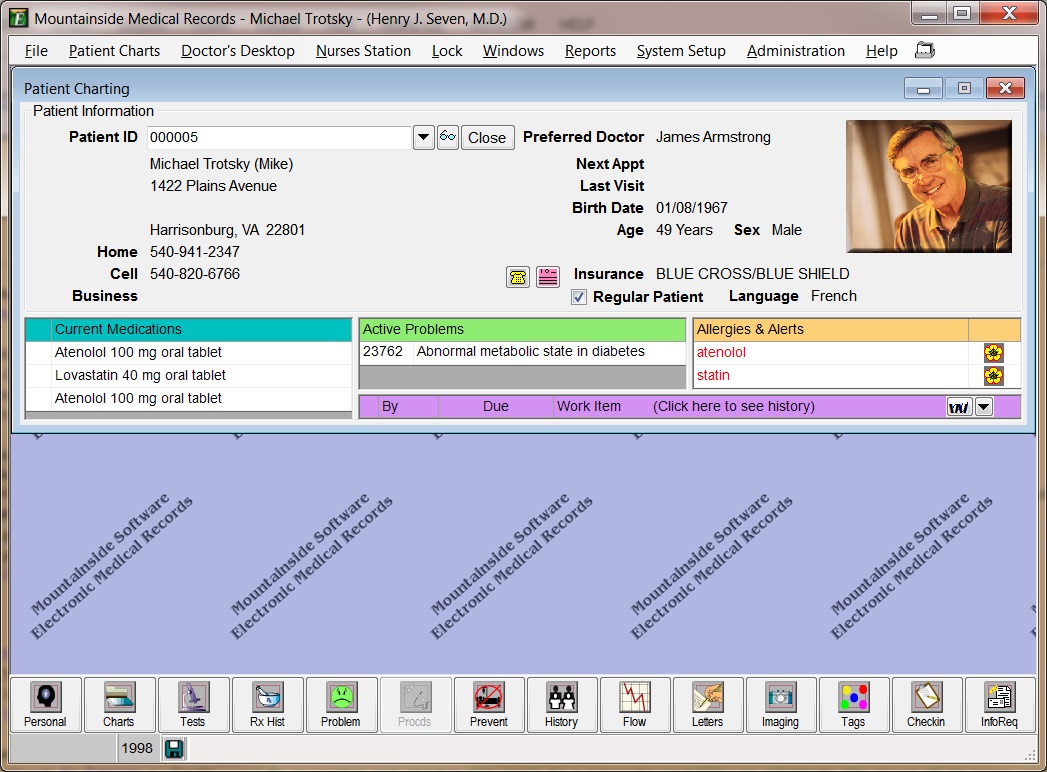 Doctor's Desktop
Providers have their own "desktop" that helps them keep track of their workload. In place of a stack of charts on their office desk, they have electronic lists of unfinished chart notes along with:
Patients in office: Waiting Room and Exam Rooms.

Open documents, pending orders and more.

Messaging, to-do lists.

List of labs with results to review.

Meaningful Use Status Report.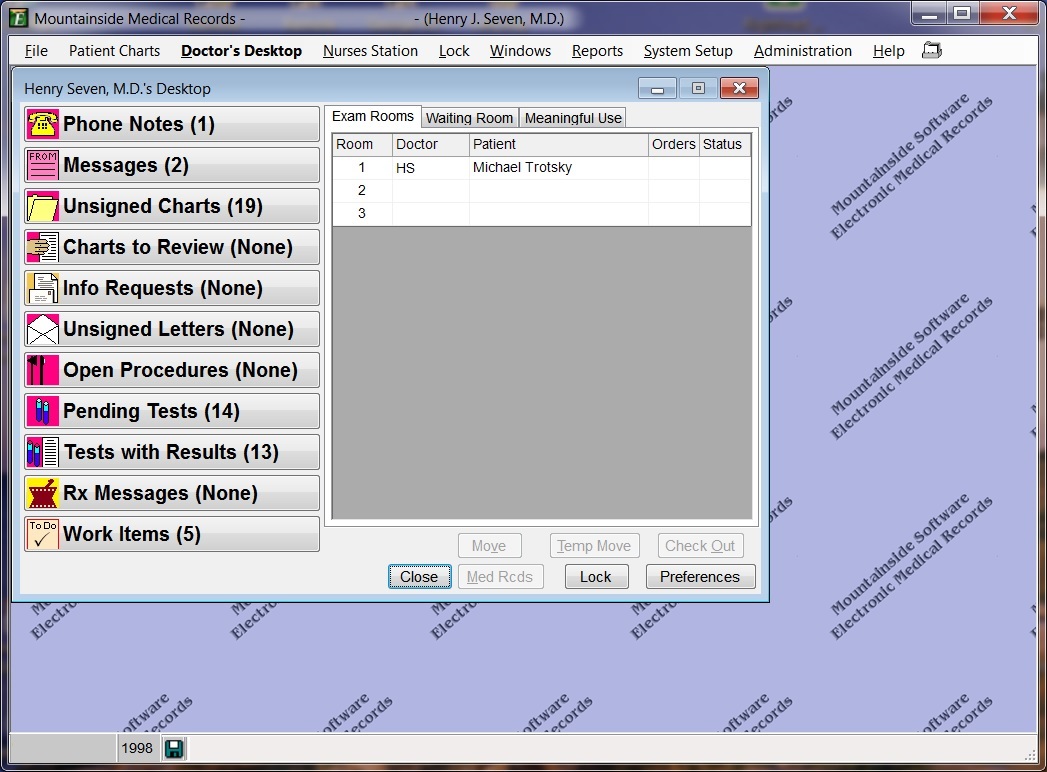 Nurse Station
The Nurse Station gives staff a personal view of patients in the office along with many productivity features. Each staff has private mailboxes for inter-office messages along with access to selected shared mailboxes for various inter-office communication needs. From the Nurse Station, staff may:
Move patients between waiting and exam rooms.

Open the chart of any patient in either the waiting or exam rooms.

Manage their messaging, to-do lists and other functions.

Manage inbound faxes and failed outbound faxes.
Additional Features Include…
Lab interface for bi-directional communication with laboratories:

Send electronic orders

Receive Electronic Results – posted directly to Provider's Desktop list of orders with results.

Receive unsolicited results from hospitals or other facilities.

Security system controls access to patients and system features.

Reports, Patient Lists, Reminders, etc.

Site-defined rules for lists and reminders.

Reminders are linked with Preventive Care for overdue procedures.

Provides patient-centric internal to-do lists.

Communication methodologies for interacting with the patient and other providers outside of the office.

Mountainside's Patient Portal provides secure, bi-directional, communication with the patient and/or their representatives.

E-send capabilities for outbound letters, notices and reminders.

Appointment and other reminders may be communicated via phone, mail, the patient portal, email and text messages. Patients may choose their preferred reminder method(s), or opt out of receiving appointment reminders.

When integrated with Mountainside's Practice Management System, patients may receive their billing statements on the portal.

Direct messaging allows you to communicate securely with other providers and receive such communications from others.

Direct faxing from within the application

Fax Server captures incoming faxes, allowing staff to save and route faxes.

Patient documents are added to the patient's image list and routed to appropriate staff or provider

Lab results may be directly attached to the original order and/or stored and routed.

Prescription refill requests

Referral responses such as a referred-to provider's encounter summary may be attached to the original referral order and routed to the provider who generated the referral.

Importing and routing of received faxes without the need to print and scan.

E-Prescribing

Track pending and overdue labs and test orders

Document Imaging including:

Acquisition of a patient's picture for display on the EMR face sheet, in Allergy, etc.

Scanning of new documents.

Importing of existing documents.

Integration with the Mountainside Fax Server for acquiring and routing inbound faxes.

Integration with Lab Orders for direct attachment of result images.

Integration with Outbound Patient Referrals for acquisition of documents returned by the referred-to provider.

Attach image(s) to chart notes.
For additional information, or to request a free demo, please contact us